02 9112 4555

ONLINE STUDENT CENTRE
NSW School of Massage
25 years experience
Famous for "hands on" learning and training
Fully accredited
Australia's oldest specialist massage training centre
Since 1985 the NSW School of Massage has been providing students with the necessary skills and qualifications required to become a competent professional massage therapist.
The massage school has an excellent reputation and produces graduates of a very high standard.
Your success and enjoyment in your course at the NSW School of Massage is ensured by:
Step-at-a-time learning
Learning is made easy and effective. Each topic is broken down into small parts in sequence. The steps are gradually built on each other from class to class until you have mastered each technique and skill.
Hands-on practice
Our classes are dynamic. Your training involves hands-on instruction, demonstration and practice in a highly supervised classroom situation. Most classes run for three hours. Generally, the first hour is spent observing a demonstration of specific technique. The remaining time is spent practising these techniques under close supervision. This means you will give and receive a massage most classes.
Review and integration
Time for review and discussion is included in your classes. You will also find your coursework and practical sessions combine to give you an overall mastery of massage therapy.
Professional and team support
All aspects of the program are designed to show you how to become a successful professional. We're committed to your success. Your instructors and student services team work together to help you succeed.
Flexible study options
Study massage fulltime or study massage part time with our flexible massage course options. Fulltime students can gain their Certificate IV in Massage in just 20 weeks. Part time massage students can complete the course one module at a time as their schedule permits. There are 9 modules in total for the Certificate IV massage qualifications.
RELATED LINKS
• Massage Course Brochure
• Contact Us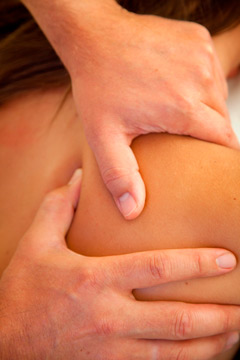 NSW School of Massage and our
qualifications are recognised by
leading massage associatons