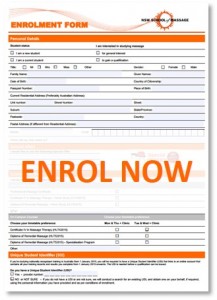 Classroom Students who commenced studies (HLT42015/HLT52015) before 2017
---
Enrolment Form
If you have problems downloading this information, please feel free to call us and we will post you the massage course information. Contact Us here.
---
INTERNATIONAL STUDENTS – International Course Timetable & Tuition Fee
International students are eligible to study our CRICOS registered  full time course programs. Please refer to specific timetable information and tuition fees of these eligible courses in the International Student Section.