Many students come to the School to achieve their massage certification and start their new career or small business in Massage Therapy.
The School specifically caters for these students by offering two nationally recognised industry qualifications:
Students will first complete their Certificate IV in Massage Therapy which is embedded into the Diploma of Remedial Massage.
We encourage students to directly enter the industry after achieving their Certificate IV in Massage, even if just on a part time basis, whilst they go on to study for their Diploma. Students find that by gaining experience in the industry they are more equipped to complete further qualifications such as the Diploma of Remedial Massage.
The NSW School of Massage is a government registered training provider under the Australian Qualifications Framework (AQF).
Industry Recognition
NSW School of Massage and our qualifications are recognised by leading massage associations. Upon graduation from your massage qualification you may join a number of professional associations including The Association of Massage Therapists NSW, The Australian Association of Massage Therapists, The Australian Traditional Medicine Society, and other leading industry associations.
Qualification codes
The national qualifications in massage are each given a national code. These are:-
RELATED LINKS
• Massage Certificate IV
• Massage Diploma
• Part time Programs
• Full time Programs
• Massage Course Brochure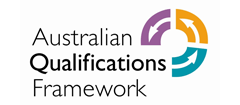 NSW School of Massage and our
qualifications are recognised by
leading massage associatons