COURSE DOWNLOADS AND LINKS
These links have been provided to augment your understanding of the Safe Work Practices course. Each module contains links to further readings.
SAFE WORK PRACTICES COURSE
Module 1 – WHS Legislation website links
Module 2 – Risk Management website links
Module 3 – Safe Working Practices & Injury Prevention
Module 4 – Following Organisational Policies and Procedures
Module 5 – Integrating Safe Practices Into a Business
Module 6 – Infection Control
Module 7 – Cleaning and Disinfecting
Module 8 – Waste Management
Module 9 – Personal Hygiene
HEALTH SCIENCE
THE MASSAGE BUSINESS
If you have any problems downloading these forms please contact us.
MASSAGE ASSOCIATIONS
 – 
Link
CASE REPORT RESEARCH REPOSITORY
– 
Link
CLASSIFIED MASSAGE THERAPY RESEARCH
–
Link
HANDS ON MAGAZINE
Read the article written by our School's Director, 
Matthew Smith, 
on the the spring issue of the 
AAMT Massage Therapists Journal
 – 
Download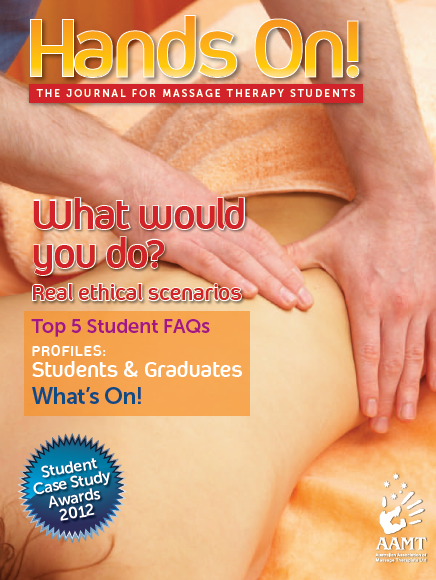 ATMS JOURNAL
Read the article on
Scar Tissue
from
pages 236 to 238
written by one of our Health Science lecturers,
Patrick de Permentier
, in the  
ATMS Journal 2013